Welcome to Junjou Romantica Wiki!
A Junjou Romantica database that anyone can edit!
So far we have 129 articles! Contribute to make this wiki better!
About Junjou Romantica
Junjou Romantica (純情ロマンチカ, Junjō Romanchika, lit. "Pure-Hearted Romantica"), stylized as Junjo Romantica ~Pure Romance~ for English release, is a yaoi/boys love series by Shungiku Nakamura. It focuses on three storylines: the main couple (Junjou Romantica) which comprises the bulk of the books, and two other male couples (Junjou Egoist and Junjou Terrorist) that provide ongoing side stories. It began as a manga series and has expanded into several CD dramas, a light novel series titled Junai Romantica, and an anime series.
Three very different couples caught up in a storm of pure romance!
Featured Character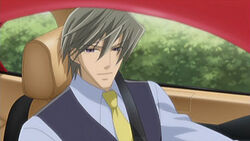 Akihiko Usami is a main protagonist in the Junjou Romantica series. His lover is Misaki Takahashi and their relationship title is Junjou Romantica, which is the same title as the series. Akihiko is a prolific and successful novelist. Read more!
Featured Episode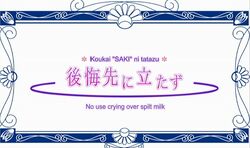 No use crying over spilt milk is the second episode of the Junjou Romantica anime series. It focuses on the Junjou Romantica couple Misaki Takahashi and Akihiko Usami.
Misaki has started classes at university and makes a new friend, and Akihiko shows his jealous side. Read more!
Junjou Romantica News
Manga volume 24 was released August 30, 2019 in Japan.
Manga volume 23 was released September 1, 2018 in Japan. A limited edition includes a booklet.
Manga volume 22 was released December 28, 2017 in Japan. A limited edition includes a drama CD.
---
The manga series is ongoing. New chapters are published in Emerald magazine about three times a year.
The manga series is not licensed for release in English, and is unlikely to be.
The anime season 3 finale aired on September 24th, 2015, and there is no word on a new anime season.
The most recent anime installment is the Junjou Romantica OVA (season 3) (see here).
Poll
Which is your favorite couple?
We Need Your Help!
For as popular as Junjou Romantica is, wikis don't get many editors, and many pages here still need attention. We need everybody's help to make this wiki shine!
How Can You Help?
Fill in short chapter summaries on the manga volume pages that need them, especially later volumes.
Create pages for characters who have not yet been added.
Add information to existing pages, such as plot summaries, pictures, or info missing from the infobox.
Page cleanup - spelling, grammar, rephrase for clarity, etc.
A great way to help is to just reread a chapter or rewatch an episode, especially later chapters and episodes. Then look through related pages (characters, chapter, episode, etc.) to see that the events are documented and accurate. Edit and add information where needed!
If you check a source, add a reference!
Make suggestions on how to improve the wiki!
Search!
Search on Junjou Romantica wiki:
Affiliates
Want to become an affiliate? Ask here!
Community content is available under
CC-BY-SA
unless otherwise noted.